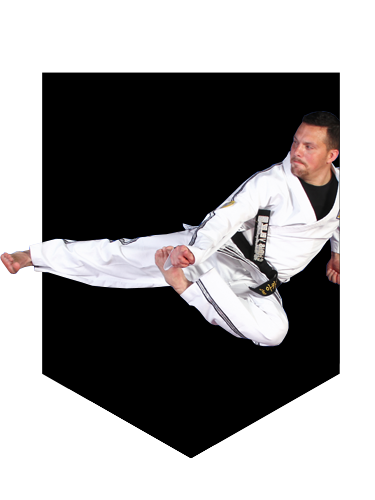 Senior Chief Instructor and Owner
With more than 20 years of experience in various martial arts, Mr. Velez stresses the balance between the traditional aspects of the martial arts, progressive training methods and the more modern goals of personal and professional leadership development.
Mr. Velez began training in 1989 at the age of 6 and earned his black belt as a teen. He started teaching professionally at the age of 19, gaining valuable exposure to the positive effects martial arts training could have on self confidence in kids and teens. Realizing that martial arts was more than a fitness workout for the already athletic population, Mr. Velez seized the opportunity to provide black belt training to those who needed it most – the average family looking to gain self-confidence.
In October 2003, he opened his own martial arts academy to provide a full time training program in Owasso, Oklahoma. While maintaining a primary focus on Taekwon-Do, Mr. Velez has gained exposure to numerous styles and systems of martial arts, including Weapons, Jiu-Jitsu, Western Boxing and Muay Thai.
Located in Owasso, Oklahoma, Martial Arts Academy offers training in martial arts for all ages and experience levels. Whether you've earned a black belt or you're a first-timer looking for a martial arts training program, Martial Arts Academy can be your key to success.
Start today and get 30 days FREE martial arts training to start your journey toward becoming a Black Belt Leader.>>