By Deanna Rebro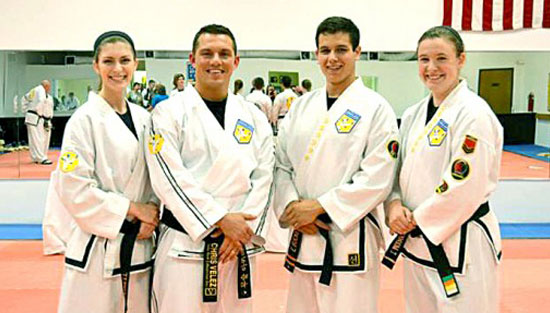 Photo caption: (L to R): Taylor Carrell, Assistant Instructor, 1st Degree Black Belt; Chris Velez, Senior Chief Instructor, 5th Degree Black Belt; Eric Buckendorf, Chief Instructor, 2nd Degree Black Belt; and Tara Modrell, Instructor's Assistant, 1st Degree Black Belt.
Within the world of clicking for an answer and multi-tasking, getting plugged in has a totally different meaning at Martial Arts Academy; it means "focus." Very simply, use your brain and concentrate on the task at hand in the moment.
Educators, pediatricians and parents agree that children today have difficulty focusing or concentrating on what they are doing. Many adults do, too. But children as young as five are going through rigid drills that prove they are doing it at his school, according to Chris Velez, senior chief instructor and academy owner.
"My goal is to help these kids realize their potential in life," says the man who everyone calls "Mr. Velez." But he, too, addresses everyone by Mr. or Miss. It's a sign of courtesy and respect. And that is an integral part of the academy's program. "I treat people the way that I want to be treated," he explains, "and I lead my students by example."
Rather than relying on computers to make work easier, he uses one-on-one human interaction. Students ask their instructors for information. They make eye contact. They carry on conversations. This back-to-basics approach is different from most schools, as it fosters life-changing and life-long leadership skills along with the physicality of martial arts.
Mr. Velez strongly believes that everyone, regardless of age, has within them the ability to become a leader. The academy just provides proof that they can do it through constant challenging and achieving.
There is no horseplay at the academy, but there is always self-discipline. Classes are regimented and all students must pay attention. "This required attention and clarity of thought is what we run into when we are under pressure in everyday life," explains Mr. Velez. "All important moments have pressure. It's how we respond that makes the difference."
"I don't have expectations. I have standards," adds the fifth degree black belt. Responses to commands are always "Yes, sir" and "Yes, ma'am." There are no options.
Parents are always pleased when they see positive changes in their children. One mother recently commented that her son was using "Yes, ma'am" at home after just one month of training.
All the instructors set up students for success. Do they succeed every time? Of course not. Just as in life, sometimes students advance to the next rank with the first effort and sometimes they won't. But when they don't make it, the kids understand this is not a failure. It is just a temporary defeat and they look beyond it. They learn from their mistakes and keep trying. They never give up, but persevere until they succeed.
Each achievement brings a higher level of confidence. Mr. Velez says he has seen shy children start the class, go on to achieve their black belts, and blossom into dancers or musical performers.
Many times after a long summer break, children have behavioral problems when school starts. Mr. Velez encourages parents to start their children as soon as possible. As new members see kids their own age excelling, they quickly develop an excellence mindset. The academy accepts children as young as four. An orientation meeting with child and parents determines eligibility.
Family enrollments are not unusual. Parents watch their young kids rise to the occasion when treated with maturity. It's a win-win for everybody.
Martial Arts Academy offers classes Monday through Saturday (Fridays by appointment). All family members are welcome.
For more information, contact Martial Arts Academy in Owasso at (918) 376-9080 or in Tulsa at (918) 622-5425 or visit martialartsacademy.net